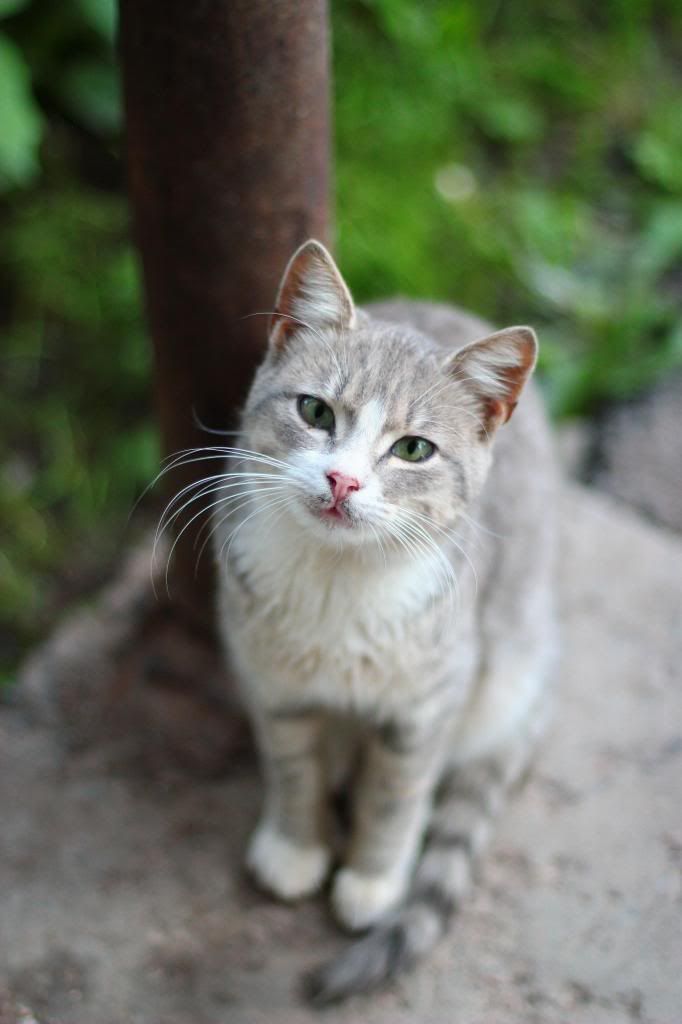 Hi everyone,
The weather has been so fine lately that I didn,t want to waste this precious summer time on staring at my laptop screen.
However, today,s morning is a chilly one. I,ve just made a good cup of latte to warm my dear self up and now it,s the perfect moment to finally post some cat pictures. Actually it,s high time to post them because even my dad has noticed that my blog is beginning to resemble a fashion one. "You only write about skirts and such stuff". That,s what he said.

Have you ever thought a quiet girl with a camera can enrage anyone? Well. she can. While I was taking these pictures I heard a woman shouting at me and saying in a very rude and offensive manner that I could go to a scrap yard and take my "damn" pictures there. After I had told her I didn,t need her advice on where to go and what to do she began discussing me with others telling them how annoying I am walking around the village with a camera. Oh my, she was so self-assured being so outrageously ignorant!
I wonder when will people become a little bit more tolerant. When will they learn to respect each other?
I don,t know whether to blame that woman for her ignorance or not. One the one hand, it is the government that does nothing to educate people in distant villages and make them well-mannered. On the other hand, I can,t believe an adult woman doesn,t feel the difference between politeness and absolute rudeness. I think it is something that you can feel without getting any special education.
Anyway, no chowderhead can stop me from doing what I enjoy. It,s amazing how some new cat photos can cheer me up.